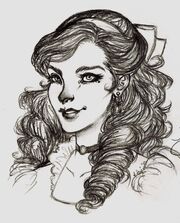 Lettie Hatter is Sophie's seventeen-year-old sister. She is considered the most beautiful of the three Hatter sisters, and has dark hair.
Howl's Moving Castle (Book)
[
]
Initially, she is an apprentice at Cesari's, a pastry shop in Market Chipping, but because she wishes to learn magic, she and Martha Hatter switch places using a temporary appearance altering spell. A strong minded young woman, Lettie becomes fond of a stray dog which is in fact a bespelled human. When she finds out Sophie has been bespelled and lives in Howl's castle, she sends the dog to protect Sophie from Howl's charm. Though she has a pretty mild role in the novel she has a small apperance in the movie.
Castle in the Air
[
]
When Abdullah meets Lettie, she is pregnant with a daughter. She is learning to become a witch and is also married to Benjamin Sullivan, the Royal Wizard of Ingary. (Better known on that world as Wizard Suliman) Later the two do not attend Abdullah's wedding because she goes into labor and gives birth to her daughter.