Gwendolen Chant
is the older sister of
Eric "Cat" Chant
. She appears in
Charmed Life
.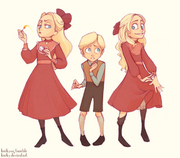 Gwendolen is the first child of Francis and Caroline Chant. As her parents are cousins, she had a greater chance of having witchcraft, and Gwendolen's manifests at an early age. Cat was born about two years after Gwendolen. She says in Charmed Life that she has been using Cat's magic ever since he was a baby, and this instinctual grasp of power meant that she placed his nine lives in a matchbook for safekeeping when she was about five years old. She is also the person who gave him the nickname Cat, though it is unclear whether anyone but Gwendolen knew her reasoning for this.
Gwendolen's abilities do not go unnoticed by her parents, but due to Francis insulting the Chrestomanci of the time (Christopher Chant), her powers are unchecked and she continues to use Cat's enchanter magic for her own purposes.
Gwendolen believes from an early age that she is poised to rule the world in the future, and no one dissuades her of this. Most of her actions can be seen as working toward that goal, with a complete lack of disregard for the health and happiness of those around her.
When Gwendolen is about eleven, and Cat about nine, their parents die in a boating accident, called in the media the Saucy Nancy disaster. Cat and Gwendolen survive; Cat believes that this is because he is clinging to Gwendolen, who cannot drown because she is a witch. As one of his specters is a drowned child, it is more likely that Gwendolen used one of his lives to keep the two of them from dying permanently.
After the boating accident, Cat and Gwendolen move in with Mrs. Sharp downstairs and Gwendolen begins magic lessons with Mr. Nostrum, a local necromancer. Cat gets violin lessons instead, but eventually Gwendolen uses Cat's third life to turn his violin into a cat, simply out of irritation at his poor playing.
Gwendolen comes home one day, glowing with happiness, and declares to Cat that the local fortuneteller assures her that she will one day rule the world, if she can surmount a "dark stranger." From this point onward, Gwendolen seeks to do this.